Happy strawberry, surrounded by his brioche friends. I like the amount of focus here. Most 'kit' lenses covering the standard zoom range are compromised in their ability to control focus. Material costs and design for low weight make for lenses which don't capture much light.
The glass is smaller, their maximum opening (aperture) is pretty small. In order for them to collect enough light to properly expose the picture, they need to stay open longer (longer shutter speed) and the physics of their optics means that more of the frame is in focus. That's great for snapshots of the backyard, sports or street photography where you want everything in focus, but much of the art of photography is the act of getting the viewer to see a subject in the way that you see it, as the artist. To point the viewer's eye to the thing that caught your eye, or moved you to take the shot in the first place. Slow lenses don't give you much control over for/aft scene-selection. Often termed 'bokeh' by photographers - throwing the background out of focus. I prefer to call it controlling the depth of field. You can have a very deep depth-of-field by choosing a narrow aperture, or you can have a very shallow depth-of-field which puts more of the scene out of focus, save your subject.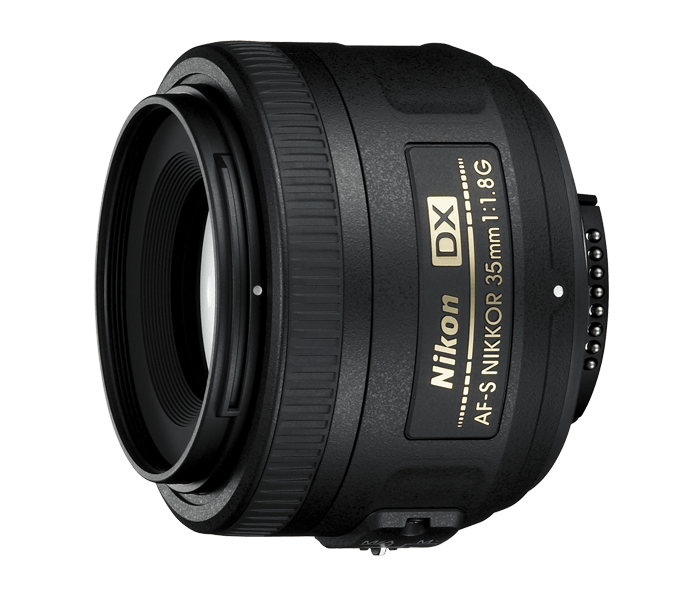 This was the culprit. The reason I went went with Nikon instead of Canon. The
Nikon 35mm f/1.8 lens. Small, light, inexpensive, designed for APS-C sized sensors (most easily categorized as DSLR cameras that cost <$2000), and this lens is a steal at ~$200.
You see, back when I was learning photography the only tool I had was an Olympus OM-2N and a 50mm f/1.8 lens. In its day, it was known for its compactness, large bright viewfinder and build quality. Loved that combination. I saw everything through that lens, and a 50mm lens on 35mm film gave what's generally considered 'normal' vision in terms of perspective and magnification. People have a really wide viewing area, peripheral scope, which is beyond what a flat reproduction can give us, but that gets beyond my scope of knowledge too.
What I can say, is during the time I was choosing a DSLR, Nikon had this lens for $200, and Canon had nothing in comparison. Canon's offerings were either large $$$$ (4-figure) pro lenses, or older wide angle lenses designed for the film days. These were not as sharp, distortion-free, light, small or as inexpensive. Canon had squat for modern non-professional DSLRs in this standard perspective range.
So that did it. I got the Nikon D60. I also got the Nikon 18-105mm zoom, as a walk-around lens. During the first year of shooting, I noticed that 75% of my best-rated photos (judging my own shots on a 1-5 scale), were taken with the 35mm lens. With this lens on, my brain worked more like an artist. I actively looked for things that would fit into the frame, and when I got the camera to my eye, I could capture what I saw. With the zoom lens, my brain took shortcuts in the creative process. I just framed what caught my eye by zooming, and I pulled the shutter. The skipped step was thinking. Imagining.
It may seem counter-intuitive, in a market where good cameras are judged by how fast and automatically they can capture a moment. I think those features are great, but especially required for a lot of candid, kids and sports shots. But my eye was usually drawn to landscape, object and pattern, and speedily snapping these led to unremarkable 'snapshots'. By forcing myself to slow down, I started considering the subject as art, and by thinking so it becomes so... at least in a few fortunate cases.
So that's my spiel on the standard lens. But WAIT, this is a Food Blog! What do I mostly use to take my favorite pictures of food?
50mm f/1.4 lens. ~$450. Not so small, light, cheap. Sigh. But I love its perspective on food (and Yelena :-). It has an even wider aperture, giving me the ability to cut an extremely narrow depth-of-field, plus it gets me closer to the food. It fills the frame with a plate, where the 35mm f/1.8 generally gives me a place-setting.
I'm not into brand wars, so all you Canon people relax - they have two fine lenses at this focal length. The 50mm 1.8 is cheap at $100, and well-regarded as sharp. Built cheaply, but sharp! And the 50mm f/1.4 is very comparable to my Nikon, at ~$400. Great for food photography.
So now I have a 35mm, a 50mm and a 18-105mm lens bag. Dang, it crept up on me, but that's a significant bag of glass - so now it becomes hard to jump to Canon. And am I done? Of course not! As a Nikon shooter, if I were to start out thinking of just food photography, I'd get this guy. The
It can get you a little closer to the subject, both in terms of perspective, and minimum focus distance to the subject. My 50mm f/1.4 can shoot with less light, and can isolate a subject from the background better (blur it out better), but it's more depth-isolation than necessary for most food shots.
This is an example of focus isolation:"too much". It was taken with the lens wide open at f/1.4. Click on it to get a bigger look. The lower the f-number, the faster and more wide-open the lens can shoot and the narrower the depth-of-field it's capable of. Cool effect, blowing everything out of focus, but we barely get part of one toastie in focus.
The strawberry/brioche picture at the top of this page was taken with the 50mm lens, but set at f/2.8. It give plenty of focus isolation - more than you really need in this example, but it isn't self-conscious about trying to blur everything else out. So if I had to do it over again, focusing on food as my primary subjects, I'd get that 60mm f/2.8 lens... sad that it's a $600 chunk of glass that's bigger, heavier and 'slower' than the 50mm for other things. Ah, Nikon, how you hurt me. Canon also has an excellent 60mm f/2.8 lens for ~$400. If you're open to third party lenses, it appears Tamron has an excellent lens in this range as well. Their 60mm f/2.0 is less than $500.
Another good option for foodies on a budget would be the new
Nikon 40mm f/2.8. It's a more recent design for APS-C sized-sensor cameras. It has a little wider perspective than those I've been discussing. So it will more naturally frame a place setting rather than a berry, but it's a Nikon micro (macro) lens, so while it might be a little physically awkward, you have the option to get right up close to that berry (3cm from the lens!) to fill the frame with it. Helps that it's relatively inexpensive too, at ~$275.
So that's a lot of lens talk. Let's assume you just want to shoot food. If you're into Canon equipment, that 60mm f/2.8 looks great. For Nikon shooters, same thing goes, their 60mm f/2.8 is superb. Want something less expensive? That 40mm f/2.8 would be a great starting point along with the cheapest APS-C size DSLR I could find. In Nikon talk, that's currently the D3100. For Canon shooters, it's probably the T2i.
I'm not talking numbers for full-frame (35mm sensor) cameras, or smaller-sensor compacts. They all require math to give you equivalent perspectives, angle of view and depth-of-field (they're not the same). But in brief, the bigger the sensor, the more narrow a slice of depth-of-field you can create (these are those $2K cameras). The smaller the sensor, the harder it becomes to control depth-of-field (but the smaller and cheaper the cameras can be).
Reminder though. The picture is composed by the human. Okay, there is that
cat-cam, but I don't know too many feline food photographers getting their work published. The reminder is that there are great food shots taken by iPhones. Often quoted (credit Chase Jarvis), "The best camera is the one you have with you." So until my wallet gets significantly thicker, I'll be happily shooting along with my D60 and 50mm f/1.4 lens.